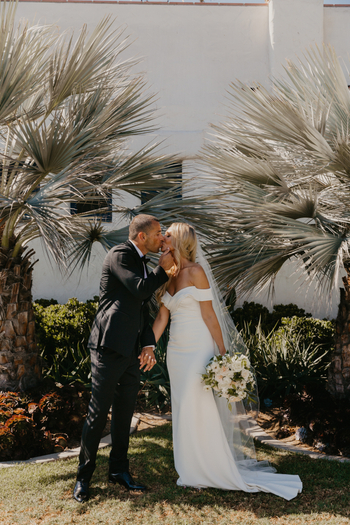 How would you describe your style?
FUN!
Our team uses a mix of Classic | Modern approach, to catch your fun, natural, editorial moments, candid memories to cherish
we love
to keep the energy up
+ help in any way we can make your session the best it can be.
From friendly direction, + keeping it fun, by creating set-up to capture honest true moments as they unfold, for your cherish memories
+ generations to come with heirloom legacy moments
What areas do you cover or travel to frequently?
Frequently shooting in Sydney Greater Area + SoCal Greater Area / SF / National Parks + dance floors world wide! + destination:)
We do love to travel, so please do not hesitate to chat with us no matter the location of your session
What is your turnaround time?
Sneak peek is sent within 24 hours to easily share immediately
Once your wedding comes up for edit,
it only takes 7 business days to complete + upload time
So this can range anywhere from 10-60+ days after your wedding,
dependent on how busy the time of year your wedding is being held in.
Please feel free to ask upfront your return time, as were working together through the journey of your wedding photography :)
Any way to get our high resolution final gallery faster?
SURE! Expedited service additionally available
for full turnaround within 7 days.
So when is busy season?
Busy season can be generally weddings in May - Nov for Northern Hemisphere.
Southern Hemisphere is busy September - March.
We've a designation wedding planned, whats the additional travel cost involved in booking?
the easy answer is your chosen Collection + Airfare + Hotel
Its highly recommended we build a custom quote to cover all your wedding vision and needs including your rehearsal dinner
+ even your post wedding day events
What is considered a destination wedding//travel?
Any booking is destination, when drive is more than 100 miles or 100km outside the included 100 of Sydney or Los Angeles downtown/cbd
When does the coverage start?
Whenever you want!
Sunrise moments? Lets go. Sunsets? Lets do it. We shoot to obtain full coverage, no matter the vision
We don't ever want our couple to say, oh I wish I had a photo of...
Please always ask for a moment - we will almost always say Yes if its safe, or something that can be planned
How many images do you take during a session?
Dependant on the events during the session
family - one location w| about 10 set-ups will gather around 750 images to edit down to your finals
wedding - an 8 hour wedding day, + my second, we will shoot between 7000-10,000 to edit down to your finals
However there is no minimum or maximum.
Do you have a set number of images you take and won't go over?
Nope we take as many as we need, to show the story of your day. It's the most important part!
Do you always have a second photographer?
Yes, unless we discuss your coverage options, and it's unnecessary.
How do we pay?
To ensure that your session is secured, we require a
50% deposit
+ your signed estimate.
For your convenience we accept and offer ChaseQuickPay(Zelle), VISA / MC, payment plan options, or bank transfer
with your session details + vision